A recent report by Indigenous Environmental Network, or IEN, and Oil Change International, or OCI, found that Indigenous-led resistance to 21 fossil fuel projects in the U.S. and Canada over the past decade has stopped or delayed an amount of greenhouse gas pollution equivalent to at least one-quarter of annual U.S. and Canadian emissions.  This is despite an onslaught of attacks against Indigenous activists over the past few years. Over the last few years, victories won against projects through direct actions have led to more than 35 states enacting anti-protest laws , jail time for protestors, thousands of dollars of fines, and even the killing of prominent activists. In the face of criminalization and demonization of those fighting to move beyond fossil fuel use, Indigenous resistance can show us a way out, says Dallas Goldtooth, an organizer with IEN, an alliance of Indigenous peoples who believe in adhering to Indigenous knowledge and natural law. "Our movements are stronger when we connect the dots," he told Grist. "What Indigenous peoples are providing is a roadmap for our allies and supporters to adopt as a way to address the climate crisis." Indigenous rights and responsibilities, the report explains, "are far more than rhetorical devices — they are tangible structures impacting the viability of fossil fuel expansion." Through physically disrupting construction and legally challenging projects, Indigenous resistance has directly stopped projects expected to produce 780 million metric tons of greenhouse gases every year and is actively fighting projects that would dump more than 800 million metric tons of greenhouse gases into the atmosphere every year.  The analysis, which used publicly released data and calculations from nine different environmental and oil regulation groups, found that roughly 1.587 billion metric tons of annual greenhouse gas emissions have been halted. That's the equivalent pollution of approximately 400 new coal-fired power plants — more than are still operating in the United States and Canada — or roughly 345 million passenger vehicles — more than all vehicles on the road in these countries. "From an Indigenous perspective, when we are confronting the climate crisis we are inherently confronting the systems of colonization and white supremacy as well," Goldtooth said. "In order to do that, you have to reevaluate how you relate to the world around you and define what your obligations are to the world around you. It's more than just stopping fracking development and pipelines and it's more than just developing clean energy, it's about actually fundamentally changing how we see the world itself." The report and data analysis by Goldtooth, Alberto Saldamando, and Tom Goldtooth of IEN and Kyle Gracey and Collin Rees of OCI, is meant to dispel the myth that land defenders and those on the frontlines of the struggles against fossil fuel projects are not making an impact. The work is cause to celebrate, Goldtooth says.  "When you take a step back and look at the work that Indigenous peoples have put in over the years and decades, it really goes to show that we collectively are making a tremendous impact for the benefit of this planet," Goldtooth told Grist.  "It backs up what we've constantly been saying," he added, "recognizing Indigenous Rights protects the water, protects the land, and protects our futures."  Deliberately the report highlights both major fights, such as the victory against the Keystone XL pipeline and the ongoing fights against the Dakota Access and Line 3 pipelines, and lesser-known battles taking place against the Mountain Valley Gas Pipeline in West Virginia and the Rio Grande liquified natural gas export terminal in Texas.  "The ultimate hope of the report was to show folks that we are winning, and we can win," Goldtooth said, "and these struggles are connected and onto themselves are an ecosystem that is paving the way for a better world." Grist is the only nonprofit newsroom focused on exploring solutions at the intersection of climate and justice. Our team of journalists remains dedicated to telling stories of climate, justice, and solutions. We aim to inspire more people to talk about climate change and to believe that meaningful change is not only possible but happening right now. Our in-depth approach to solutions-based journalism takes time and proactive planning, which is why Grist depends on reader support. This September, become a monthly donor, and your entire yearly amount will be matched. Grist hopes to welcome 200 new monthly members by September 30, and we're closing in on our goal! Help us further advance our reporting by giving us the stable, reliable funding we need. Consider becoming a Grist member today to ensure this important work continues and thrives.
https://grist.org/protest/indigenous-resistance-has-cut-u-s-and-canadas-annual-emissions/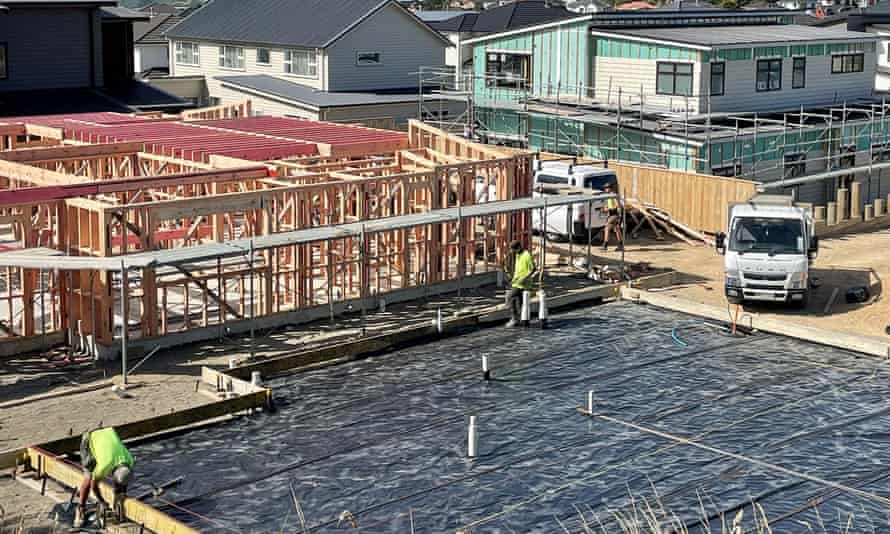 Our story starts in January 2020 as fears of the coronavirus began to emerge. The political focus quickly turned to the deteriorating economic outlook and cheap money was pumped into the economy via lower interest rates and quantitative easing. There were warnings at the time from the Reserve Bank to Grant Robertson, the minister of finance, that this policy may increase wealth inequality by raising asset prices . And, when uncertainty was making a mockery of many predictions, that particular advice proved accurate, if more than a little understated. At the end of January 2020 the median house price in New Zealand was $612,000 . By August 2021 it was $850,000 . Prices are up 25% in the last 12 months alone. All during a pandemic that disrupted economic activity and confidence. And all consolidated on top of recent record price rises. The Reserve Bank figures of the total value of the housing stock help translate this gain into a national picture of wealth. In December 2019 the total value of housing stock was $1.188tn. The most recent figures are from March 2021, which reveal that since the pandemic hit the total value of housing stock had increased by $324bn. For the "team of 5 million" mentioned so frequently in conjunction with Covid-19 this equates to about $65,000 each. But that windfall isn't shared equally among players, and to understand its effect on inequality we need to analyse who owns those assets. People of European ethnicity are far more likely (58%) to own their own home or hold it in a family trust than Māori (31%) or Pacific (21%) ethnicities. This figure is also influenced by demographics , as the median age of those who identify with European ethnicity is 41, while Māori and Pacific peoples are 25 and 23 respectively. As may be expected, homeownership rates tend to increase with age. For example , around 78% of those between 70 and 74 own their own home, while around 21% of those between 25 and 29 do. People with partners are also much more likely (68%) to own their own home than those without (29%). Inequality also includes how housing provides capital for future speculative investments.
https://www.theguardian.com/world/commentisfree/2021/sep/17/new-zealands-pandemic-housing-policy-has-baked-in-maori-inequality-for-generations
J.B. Pritzker's 2018 run for governor, is accused in an indictment issued Wednesday of stealing between $10,000 and $100,000 by allegedly forging documents purportedly signed by Jack Garcia, the merit board's executive director. As Garcia started investigating the overtime claims in early 2020, Thornley reached out to multiple ranking officials in the Pritzker administration and first lady M.K. Pritzker, according to separate filings in federal civil court. Thornley was terminated from her post as the board's chief fiscal officer and director of personnel in July 2020. In a federal lawsuit filed last April that names both the board and Garcia as defendants, Thornley claims she was fired by the merit board in retaliation after she filed complaints alleging sexual harassment and abuse by Garcia. He denied those charges. The Illinois Capitol in Springfield in January 2021. (Brian Cassella / Chicago Tribune / Chicago Tribune) An outside review for the merit board led by former federal prosecutor Christina Egan found evidence sufficient to support a finding that Thornley forged documents to make "payments for herself for overtime she did not work." The review also found evidence "insufficient to support a finding that Garcia sexually assaulted Thornley." Thornley did not immediately respond to a request for comment. Pritzker spokeswoman Emily Bittner said in a statement issued Thursday that the administration "takes allegations of sexual and professional more information misconduct seriously." "The Police Merit Board is an independent body, but the board members moved forward with the administration's advice to hire an outside law firm to review the facts in the matter and place individuals on administrative leave as needed to allow the investigation to go forward," Bittner said.
https://www.chicagotribune.com/news/criminal-justice/ct-illinois-police-merit-board-official-indicted-20210924-izp5woztbffnna7czrvtugfxz4-story.html